Murder Victims Families of Those Killed By Teens
We are murder victims families of those killed by offenders under age 18 at the time of the crime. The stories of some of our murdered loved ones can be found on our "Memorials" pages, the heart and soul of this website and organization.
We exist to support and inform each other. We take no organizational stand on what sentences for these offenders should be: cases and victims' views vary widely, and these decisions are out of our hands. But how these offenders are sentenced is the subject of a significant public policy debate currently in which victims' voices should be heard.
We exist to support the rights of all victim family members to be heard and participate fully as they choose in the criminal justice system. Read more About Us and What We Believe.
VICTIM/FAMILY MEMBER NEWS
NEWS ON NATIONAL DEBATE OVER SENTENCING OF TEEN KILLERS
Lousiana's Supreme Court joins the growing list of state Supreme Courts to find that Miller is NOT retroactive, and that long finalized cases of teen killers sentenced to life are not eligible for re-sentencing.
The debate over whether the Miller v Alabama Supreme Court ruling against mandatory life sentences for teen killers should be applied retroactively or not matters to victims families, and the current legal chaos is often traumatizing.
Alabama's Supreme Court joins other state courts and lawmakers in finding that the Supreme Court's ruling last summer for optional sentences only for teens that kill is NOT retroactive.
Pennsylvania's Supreme Court rules against retroactive application of the Miller Supreme Court decision while the Legislature votes to preserve Life Without Parole sentences as an option for some of the most heinous murderers. Courts resentence first "post-Miller" teen killer to 60 years to life, while the Third Federal Circuit grants limited retroactive sentencing appeals to three offenders. And, as elsewhere nationally, offender advocates' claims about offender numbers are exaggerated.
Victims' families in California approve as the 9th Circuit rules in support of the discretionary life sentences in place for teen killers.
Nebraska's new law for sentencing of teen killers is supported by many victims families and legal experts.
Iowa's Supreme Court orders re-sentencing for teen killers, re-traumatizing victims' families
South Dakota takes a stand for victims families, joining the majority of states denying the legality of retroactive application of the Miller v Alabama ruling.
Connecticut legislation to free teen killers defeated
The Texas Senate Affirms Appropriate Prison Sentences
Texas' legislature passes a bill in special session to comply with Supreme Court regulations on sentencing of juveniles who commit capitol crimes.  
Legislation defeated in Illinois
Illinois Legislators supported concerns of victims and law enforcement in defeating retroactive Miller v Alabama compliance legislation. See our fact sheet. The Illinois Supreme Court is one of several states still pending on the issue of retroactivity.
A New Hampshire case is reflecting national trends in offender re-sentencing after Miller ruling
Harvard Journal of Law and Public Policy dissects legal problems in Supreme Court's decisions in Juvenile Killer Sentencing
Montana abolishes life sentences for teen killers
Massachusetts debates JLWOP issue
Victims' families need to be notified, legal authorities disagree about fate of offenders
Michigan Judge order for re-sentencing hearings to be appealed:
Legislature passes on Miller-compliance legislation that is not retroactive.

 Victims families have 

suffered re-traumatization

 in order to be heard.

Details here. Atty General Bill Schuette shows exemplary concern for victims families in his battle against offender advocates.
.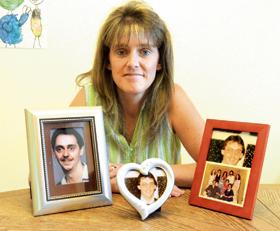 PHOTO: Jody Robinson, NOVJL Michigan
OFFENDER NEWS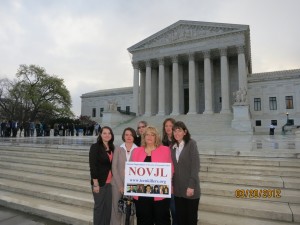 Photo: NOVJL murder victim family members of those killed by teens from all over the nation at the United States Supreme Court during the argument of a case that could free their loved ones' murderers.
NOVJL For Victims Rights and Sound Public Policy Regarding Teens Who Kill
NOVJL exists to support and inform victims families and friends of those killed by offenders under age 18. Given the significant advocacy effort that exists for those offenders, and that gives no information or support to the victims families of these crimes, we found it necessary to organize ourselves. NOVJL is devoted to victims rights and sound public policy regarding teens who kill.
This website tells the true stories of those murdered by teens – truth that is especially important in the face of the willingness of juvenile advocates to minimize and even misrepresent the facts of these horrible crimes. We know there is much to discuss in public policy regarding teens who kill, but good decisions can only be made when the full facts are known.
We advocate for the constitutional and statutory rights of crime victims that exist in all 50 states and federally. We advocate for best possible policies to prevent such tragedies from ever happening again.
We understand the controversy around the issue of teens who kill and the destruction left in the aftermath of those crimes - we have lived it. We understand the powerful feelings that the youthful age of these offenders creates. We understand the problems in our criminal justice system, as with any human institution.  We often do not understand, however, the incredible focus on helping these offenders with no compassion for or attention to the victims they created. The behavior of juvenile justice reform advocates towards the victims families of these crimes during their national policy change push of the last few years has been poor, to say the least. These offenders have committed some of the most horrific murders imagineable. We miss our loved ones horribly.
Help Find and Support Victims Families
There are thousands of murder victims' family members in this nation who are not aware that there is a movement that supports and advocates for teen killers that seeks to change the terms of their incarceration, and often without any notice to victims families.  If you are aware of any victims families of juvenile killers please invite them to contact us. 
You can also reach this website at www.jlwopvictims.org and www.juvenilekillers.org.                                                                                                                                          
"Victims don't want vengeance, they want healing: but there is no healing until justice is done.  And justice is never 'done' as long as the sentence can be undone."  ~NOVJL member



"Those under 18 years old may as a general matter have diminished culpability relative to adults who commit the same crimes, but that DOES NOT mean their culpability is always insufficient to justify a life sentence."
~Chief Justice John Roberts, Concurring Opinion, Graham v. Florida, 2010
"Daniels and several members of his family begged officials to lock up Markus Evans for an extended time . . . [but after Evans only served 14 months in juvenile custody for shooting and almost murdering Daniels, his 7th violent felony by age 15] Evans was released at age 17 with no supervision . . . Evans reported to police he was so angry that he robbed a liquor store and shot the clerk . . .17 year old Jonoshia Alexander . . .was found dead in the alley, shot in the back of her head."
~Milwaukee Journal Sentinel, May 29, 2011