De'Marquise Elkins
Elkins and his 15-year-old accomplice attempted to rob Sherri West as she strolled her 13-month-old son Antonio Santiago. When she did not give them her purse, Elkins shot Santiago in the face and killed him. Read more out our memorial.
Lacey Aaron Schmidt
From "The Prison Legal News" Atlanta: Of the 39 states that allow life without parole for juveniles, Pennsylvania has the most who came into the prison system for crimes they committed when they were teenagers. Georgia has sentenced far fewer teenagers to life without parole. Until recent years, state law allowed prosecutors to ask for life without parole only when the circumstances called for the death penalty, which they could not seek for juvenile defendants. Of the 31 Georgia juveniles sentenced to life without parole, one was 13 and two were 14 when they killed. Only one of the 31 is still a juvenile, according to Department of Corrections data. Lacey Aaron Schmidt, now 16, was sentenced in March. He was 14 when he shot classmate Alana Calahan in the head and hid her body in Columbia County woods. The girl's parents called Schmidt a monster and a hateful beast. . . There must be consequences, said Bruce Holmes of Rex, whose 17-month-old great-grandson was murdered in 2009 by his teenage father. Brain development is "not an excuse," Holmes said. Otherwise, "it would become open season for people to commit crimes knowing they won't have to serve any big time for it. They aren't thinking with a full deck here. You're opening the door for a lot of stuff."
Jurors Talk About Schmidt Guilty Verdict
Jurors in the Lacy Aaron Schmidt murder trial
Four days after the trial started, a verdict Thursday night for 15-year-old
Lacey Aaron Schmidt. He was convicted of killing 14-year-old Alana Calahan and found guilty on all counts. Schmidt showed no emotion as he learned of the verdict. It took the jury more than four hours to deliberate. They said they really didn't listen to the opening and closing arguments, they wanted to base their verdict completely on the evidence that was presented. Lacy Aaron Schmidt sat in court Thursday watching and listening to the attorneys battle out his fate.
Coming to his defense: his attorney, Penelope Donkar. "Just because his emotions weren't what you'd expect doesn't mean he was a cold blooded murderer."
For the prosecution, Assistant District Attorney, Natalie Pain. "He walks up to Alana Calahan and shoots her right in the back of the head."
Nearly two hours of closing arguments from these attorneys. But that's not what made the jury reach its "Guilty" verdict. The jurors we spoke with, like Derrek Blitch, say it was all about the evidence. "I can't really worry about what his future is going to be because there is someone else who is not going to have a future at all." They talked about what they found to be the most damning evidence against Schmidt. Richard Iannacone described it graphically. "Whenever he shot her and she was gasping for air and spitting up blood he didn't try to save her, he dragged her like a piece of trash." They also said that the defense started the case arguing that Schmidt snapped, but then changed their defense by trying to show that the gun went off by accident. But they say it wasn't an easy decision. Some of the jurors said they changed their minds once deliberations started. Deborah Burton said it was hard convicting a 15-year-old. "It's really tragic, but I think it's Alana that's….sorry…this was all very hard." The Schmidt family left the court house first in defeat. Alana Calahan's family left next. Both sides headed home, after a heartwrenching ordeal that started one year ago.
Lacy Aaron Scmidt was sentenced to life in prison.
The defense repeatedly told the jury that Schmidt was a kid and that's why he acted so strangely after Alana Calahan was killed. The defense originally opened the trial saying this was a case of voluntary manslaughter. Voluntary manslaughter is when one person kills another
by sudden outburst, not by plan. However, Judge Michael Annis ruled that there was no evidence showing manslaughter. So, the defense closed the case, by telling the jury that this shooting was an accident. "If he was planning on something horrible, why would he have taken off his shoes?" public defender Penelope Donkar told the jury. Donkar argued that Schmidt was following the Calahan's house rules, by taking his shoes off before entering the home…moments before Alana was killed. Donkar hit on why Schmidt lied to investigators. "He realized he killed a girl he loved and all he could think was to blame someone else…he's a 14-year-old kid…Aaron is a kid and his statement shows just that," Donkar said. Donkar also said, in her closing argument, that Schmidt was beaten up and robbed the week before Alana was killed and that his guardian never reported it. Donkar called that lack of action neglect. She also argued that Schmidt had been neglected his whole life and that's why he loved the Calahan family so much…saying, that's why Schmidt never would have intended to hurt them. "It makes absolutely no sense that he
would kill her," she said. Donkar concluded her closing argument saying,
"There's been no pre-meditation shown".
Prosecutor Natalie Paine started her closing argument by picking up a picture of Alana Calahan and said, "We're here because of this sweet face". Paine then picked up the gun (unloaded) that Schmidt allegedly shot Alana Calahan with and pulled the trigger. She argued that a school bus driver saw Scmidt walking from his house towards the Calahan's
home with a hood over his head and the gun in his pocket "loaded and ready to go." Paine also argued that Schmidt knew when Alana's sister Amanda would leave the Calahan home and knew that he had less than 4 minutes to murder Alana before Amanda came back. She also argued Alana told on Schmidt days before he killed her, getting him in trouble with Alana's mother Betty, and that's why Schmidt wanted to kill her. Paine argued that Schmidt was "obsessed" with the Calahan family. His Facebook account name read, Aaron Calahan, not Aaron Schmidt. Paine argued that he was jealous of the family that Alana had and that Alana threatened him getting closer to her family. Paine said, several times, that Schmidt has a "depraved and malignant heart". She described how
Schmidt dragged Calahan's body, while Alana was still alive. "She is grasping for breath and he does not care…the truth is that he killed her, poor pitiful Alana Calahan, she will never go to high school…her father will never walk her down the aisle," Paine said. Paine closed with, "This man is guilty of every single charge".
Jonathon Bun
http://www.myfoxatlanta.com/story/18148098/jurors-to-deliberate-case-in-jonathan-bun-trial
Clayton deputy's death replayed at murder trial
By  Marcus K. Garner The Atlanta Journal-Constitution
On the first day of testimony in the murder trial of Jonathan Bun, prosecutors re-created the moment of Clayton County Sheriff Deputy Richard "Rick" Daly's death.
Jonathan Bun, the teen accused of shooting and killing a Clayton County sheriff's deputy last summer goes on trial.
The hands of Daly's wife, Cheryl Daly, trembled and clutched those of her son Toby Daly and her daughter-in-law Janaya Daly as they listened to the deputy's last radio transmission before he was gunned down.
"I'll be coming around on him on Walker [Street]," Daly said in the police dispatch audio recording played Tuesday afternoon in the courtroom of Clayton Superior Court Judge Deborah Benefield.
Moments later, an investigator with the Sheriff's fugitive squad was shouting for help into the radio amid apparent gunfire.
"Shots fired! Shots fired!" the radio reverberated. "Officer down."
Bun, now 18, is accused of shooting Daly twice on July 20, killing the deputy who was attempting to serve an arrest warrant for a previous alleged armed robbery.
"His attack was vicious, violent and cowardly," Clayton County Assistant District Attorney Jason Green told the jury Tuesday during his opening statement. "Evidence will show that Jonathan Bun knew exactly what he had done."
Defense attorney Lloyd Matthews didn't give an opening statement Tuesday morning to rebut a Clayton prosecutor's assertion that the then-17-year-old's fatal attack on Daly was deliberate and cruel.
What followed the shooting that July afternoon was an hours-long manhunt in a wooded area just outside Riverdale as police from a dozen metro Atlanta agencies responded to the "officer down" call and searched for Bun.
Bun is charged with malice murder, felony murder, aggravated assault of a peace officer, gun possession while committing a felony and a host of other charges. If convicted in the death of the more-than 20-year police veteran, he could spend the rest of his life in prison.
Prosecutors called 11 of its planned 37 witnesses to the stand Tuesday.
Three Clayton Sheriff's deputies Tuesday testified they saw Bun shoot Daly.
Deputy Minh Doan fought back sobs from the witness stand as he described watching his partner gunned down.
"I heard gunshots … two times," Doan said, crying as he spoke. "I observed Deputy Daly … step back a couple of steps … and fall onto the ground."
Doan said Bun, who was about 20 feet away, aimed at him next.
"I saw the offender point the gun in my face," he said, saying his eyes met Bun's.
Doan ducked behind the dashboard of his patrol car, got out and came up firing at Bun, the deputy testified.
Another witness, Barbara Trimble, was leaving her nearby home with her husband and saw the stop. Trimble testified she couldn't identify the shooter, but was at a stop sign facing the traffic stop when she saw the shooting.
"[Daly] leaned over, talking down into the car," Trimble said. "That's when we heard the 'pop, pop,' and the deputy's arms flew up and over his head."
Toan Nyguen said he was driving the car Bun was riding in that day. When Daly's patrol car flashed its lights at them, Nyguen, who was 19 at the time, told jurors he saw Bun pull out and cock a semi-automatic handgun.
"I told him, 'Don't do anything stupid,'" Nyugen said. "I tried to grab him."
But Nyugen said Daly never made it to the window of his car.
Two other deputies at the scene — undercover investigators with the fugitive squad whose names cannot be disclosed per court order — had initiated the stop and were in an unmarked pickup truck behind Doan's car.
Doan said Daly walked as he approached the car Bun was in. One of the fugitive investigators testified that Daly ran up to the car as Bun tried to get out, and the other said Daly shuffled toward the car.
Defense attorney Matthews questioned each of the deputies highlighting the differences in their stories, as well as the other witnesses.
"Where was Deputy Daly when the shots were fired?" he asked one witness, varying the question slightly for others.
But five people who saw the shooting were in one accord when Matthews asked them if Daly reached for his firearm. "No," they each answered from the stand.
Doan described Daly's final moments.
After he handcuffed a startled and submissive Nyugen, he went to his fallen partner's side.
"I said, 'Daly, I'm here. Open your eyes and talk to me,'" Doan said as he choked back tears. "He looked at me and responded with his eyes. But he never talked to me. I said, 'Rescue is on the way.'"
Eric Leigh Whitehead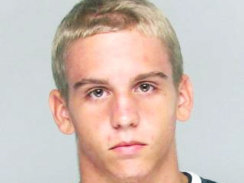 Teen Gets Life for Killing Step-Sister
By Alexis Stevens
The Atlanta Journal-Constitution
A 15-year-old Augusta boy was sentenced to life in prison for shooting to death his sleeping stepsister
Eric Leigh Whitehead shot his stepsister 10 times in the head Aug. 7, 2009, after he dreamed the two were arguing, The Augusta Chronicle reported.
Patricia Leigh Troglen, 22, was asleep on the couch when Whitehead shot her repeatedly with his stepfather's 22-caliber rifle. Whitehead, who was 14 at the time of the shooting, was charged as an adult.Whitehead does have the possibility for parole, but he will likely have to serve 30 years first, an investigator told the newspaper.
Eric Whitehead (WRDW)
(CBS/WRDW) A 15-year-old Georgia boy was sentenced to life in prison Friday after pleading guilty to murder after shooting his stepsister in the head 10 times while she was asleep on the couch.
Eric Whitehead, then 14, told investigators he had a dream Aug. 7, 2009 that he and his 22-year-old sister, Trish Troglen, were arguing, reports CBS affiliate WRDW. Whitehead reportedly woke up enraged, took a rifle from his stepfather's room, and shot his stepsister in the head 10 times while she was napping on the sofa.
Judge Sheryl Jolly sentenced Whitehead to life in prison with the possibility of parole, according to The Augusta Chronicle. He was charged as an adult and may be eligible for parole in 30 years.
Whitehead, who had a tendency to run away and get into trouble, was temporarily staying with his stepfather at the time of the shooting, reports the Chronicle.
Shortly after the shooting, investigators said Whitehead told them he considered Troglen to be his best friend.
Investigators say Whitehead had a history of psychiatric problems. Following the fatal incident he underwent two mental examinations – both found him competent to stand trial, Assistant District Attorney Hank Syms told the Chronicle.
Whitehead's biological father told WRDW that he believed "teenage hormones and peer pressures led to all that went wrong."