NOVJL Board members Jennifer Bishop Jenkins of Illinois and Jody Robinson of Michigan pictured below outside the office of Congressman Bobby Scott at the U.S. Capitol. Jennifer and Jody met with the Congressman to discuss his federal legislation that would have taken away federal crime funds from any state that did not offer parole retroactively to those sentenced to life without parole for crimes committed before they were 18 years of age. Hearings were held on the federal legislation, but it failed to even pass out of committee. To date, the federal legislative attempts to address JLWOP has not been reinstated.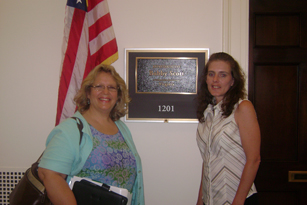 Download NOVJL's testimony before the United States Congressional House Crime Subcommittee on June 9, 2009 regarding HR 2289.
Hearings were held on a similar bill, HR 4300, in 2008, but victims and law enforcement or prosecutors were deliberately excluded. Only offenders and offender advocates were allowed to speak or informed of the hearing.
So we began to monitor the committee's hearing schedule, and when the next hearing was announced, we called and asked Congressman Scott to include us on the panel. He refused, so we went to the House Crime Subcommittee Minority leaders, Rep. Louis Gohmert and Rep. Ted Poe of Texas (who is, notably, also the Chair of the bipartisan Congressional Victims Rights Caucus) and they arranged for NOVJL to be able to testify against HR 2289.
We are deeply grateful to Congressmen Gohmert and Poe for their kindness to us. They understand and care about the agony that murder victims families go through. We are concerned that Congressman Scott does not seem to share their compassionate and larger view of the impact of these crimes.
We are also very grateful to our heroes and allies in the prosecutor community. Download Congressional Testimony from the National District Attorneys Association (NDAA).
View the entire 90 minute committee hearing and hear full testimony on HR 2289, including victim testimony from NOVJL.
There was no support for the bill and it never even passed out of committee, and has not been reintroduced to date that we know of.