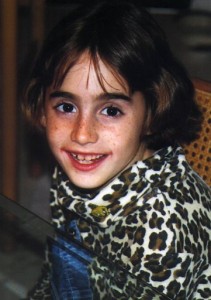 Murder of Maddie Clifton
On November 3, 1998, eight-year-old Maddie Clifton went outside to play but didn't come home because Joshua Phillips, then 14, stabbed her to death. According to Phillips, he went into a panic after he accidentally hit the girl with a baseball, and, in order to stop her screams, he beat her with a baseball bat and stabbed her. Phillips struck her three times on the forehead and the top of her head. Maddie also endured wounds to her neck that caused her to bleed to death or drown in her own blood. While she was still alive Phillips shoved Maddie under his waterbed. After she died, Phillips stabbed her an additional nine times in the chest and abdomen. The story doesn't end there. Maddie's body was found on November 10. She wore only a t-shirt and socks. Maddie's family later learned that Phillips was in a sexually aroused state when he killed her and that he watched violent pornography, possibly of underage girls. They also learned that Phillips was obsessed with Maddie's older sister Jessie and that he kept books on devil worship and witchcraft.
In Jacksonville, Florida Maddie Clifton's family, law enforcement officials and religious figures involved in the case speak out.
Former Sheriff Nat Glover: "I remember the number of days she was missing, the media coverage and the level of attention, both here and nationally. …"
Mark Foxworth, who lead the Clifton case: "Tuesday, Nov. 3, 1998, is a day I will never forget."
Maddie's older sister, Jessie Clifton: "As an 11-year-old, you think about toys, games, and most of all, your family and friends."
Monsignor John Lenihan: "Not a day goes by without some memory of Maddie Clifton, her mother, father and sister, Jessica."
Media coverage of Maddie's case:
THE MADDIE CLIFTON SAGA: Her killer fights back tears when asked about Maddie and her family
By Paul Pinkham, The Times-Union
Few homicides have dominated Northeast Florida's consciousness like the murder 10 years ago Monday of Maddie Clifton.

Just 8 years old, she disappeared on Election Day from her family's Lakewood home. For a week she was simply gone. Hundreds of people searched Dumpsters and woods around the secluded Southside neighborhood. Police sealed off the area and interviewed neighbors. Yellow ribbons sprung up everywhere as people hoped and prayed Maddie would be found.
A week later, Jacksonville Sheriff Nat Glover made a grim and emotional announcement. Maddie's body had been found, stuffed under the water bed of her 14-year-old neighbor and playmate, Josh Phillips. Josh's mother made the discovery and alerted police. Thousands lined San Jose Boulevard for Maddie's funeral procession.
Phillips was indicted as an adult and convicted of first-degree murder by a jury in Polk County, where his trial was moved because of publicity in Jacksonville. He was sentenced to a mandatory life term in prison, where he remains today. . .
Maddie's mother said Phillips' sentence is appropriate.
"Josh did get a life sentence, but Maddie got the death sentence. She was only 8 years old," Sheila Clifton Delongis said. "He should not be cut a deal just because he was 14."
Delongis said she knew Phillips as a neighbor and has no doubt he knew right from wrong.